A National Geographic logic puzzle that's easy for young kids is turning out to be a bit tougher for adults.
This image of a yellow school bus that's completely symmetrical on either end – with no hints as to which end is the front or back – and it challenges you to determine which direction it's going!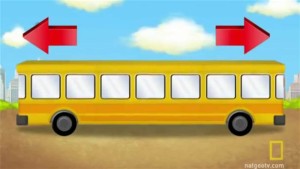 National Geographic says 80 percent of children under 10 got the correct answer immediately when it featured the test on an episode of its Brain Games TV show.  But it confuses the adults!
As the puzzle makes its rounds on the Internet, it's confusing plenty of others, too.
Wondering about the answer?
If you're in the India or U.K., where they drive on the left-hand side of the road, the answer is that the bus is traveling to the right. If you're in the U.S. and driving on the right, the bus is going to the left.
How do you know? Because the picture clearly doesn't show the bus doors, one must infer they're on the other side, closest to the sidewalk.
Haha! Now check out how these kids instantly answer to the puzzle!