How about a bottle of chilled water in the middle of a hot dessert? Or a hot cup of tea while trekking through chilled mountain ranges of kasol? Exceptionally pleasurable, aren't they? so is venture studio…A world away from the gloom of corporate world as well as from the utter fun of your college days, a magical amalgamation of the two with a plethora of buzzing entrepreneurs and their promising startups…it's a shooting star in itself where you just yearn, learn and earn!!
And on yet another day at my favourite place, I go to interview him or rather a calm and compost businessman that he is-Rahil Rupawala,CEO, co-founder but majorly a vehicle designer at INDIUM  DESIGN, a venture which generates electric cycles as is ready to fire the market. We go to the bench nearby, where i can hear the honking horns but he can hear the wheels, speed, screech and halt- an inseparable part of his life and not only startup.
Having done his schooling in ahmedabad, graduation in pune and masters abroad he has been through it all but on 'wheels'. He was that child who was always fascinated by 'Ferrari ki sawaari' and grew up to learn about everything with wheels.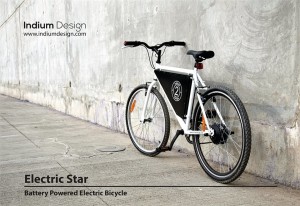 'It was a natural progression!!' he says talking about his many engineering degrees including graduation in mechanical engineering and automobile engineering and masters in design and transport.
When quipped about 'why startup' and not a 'comfy job' he replies 'from the very beginning i had my own things to do!! I always wanted to have my own business and be on my own. Startup is just a 'trendy' term given…'
And as we go about discussing why 'masters studies abroad' with an aggrieved look on his face he says 'I can bet on it that in india in a class of 60 engineering students, hardly only a few know why they are here and they are totally casual about it. But there it is not that way!! Many a times people pay their own fees and have to take loans… there it is much more of a serious job; neither the professors nor the students are laid back and casual!! And we exactly know what he  meant by that, don't we?
And when asked about the most difficult part of his journey, he says in the most determined tone 'All of it was difficult….. Sticking around is difficult, sticking to your idea, to your workplace and believing in yourself even when no one does !!'
Talking about his startup, INDIUM DESIGN, he says, 'It is mainly aimed for leisure time. We produce electric cycles which give you good speed for up to 10 kms or so. It is a very upcoming market with a few players.' so now that was something cool. So for people, grown-ups and children alike, go for your picnics or exercising or maybe just roaming around, the eco-friendly cycling way. And with INDIUM DESIGN coming your way…. It's a Happy and Healthy journey.