Each  one of us lives to create a masterpiece , a reflection  of  ourselves   – be  it  a  piece  of  art,  a  write up  you  dream  about , a  unique  programming  language  or  a  ,multi million company.  Materialistic  ,  is  what they seem to others  but  for  us  it  is  our  life  ,  a  reason  to  wake  up  to  a  bright  or  a  gloomy  morning  and  go  about  our  daily routines. And one  such  masterpiece, a  vision  of  many  and  a  dream  of  uncountable is VENTURE STUDIO. Housing a  number  of  budding  entrepreneurs  this  place  has  seen  them  toiling  for  their  masterpiece  as  great  as  itself.
On  one  of  my  beautiful  evenings  there (cause it was pouring cats and dogs !!!) ,  as I approach  him  for  my  next  startup story ,KUSH PATEL, Founder  of  DELTA H , greets  me  with  one  of  his most  friendly  smile . One  of  the  most  easy  going  person  I have  ever  interviewed , his  journey  stands  as  a  perfect  example to  just  keep  going  and  sticking  to  your  work because the  share  of  failures  and  losses  is  far  more  than  success  and  profits , once  and  for  always.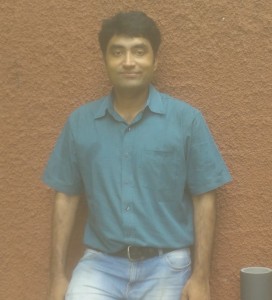 A  Mechanical Engineering graduate from  Nirma University  he  took up a  job  which  he  eventually  gave  up  to  go to EDI , Gandhinagar because  he  wanted  to  start a  venture on  his  own. During  his  course  of  degrees  and  courses  and  exams ; all in  all through and through  his  exploration  period  ;  he  came  across  an  inkling-idea-turned-into-a-wow-venture. Your  surroundings  they  say  have  hidden  secrets  and  mysteries ,  but  once  you  search  and  see  you  find  the  answers  to  even  your  most  dreadful  questions .
"Once  I  was  watching  a program called Magic  of  Science  on  Discovery Channel
and  they  were  heating  some  food  they  said  with  cellphone radiations.
It  appeared  interesting."
That  was  a  momentary  click which  vanished  only  to  reappear  again  during  an  examination. "How  could  they  heat  it??" ,  he says  visiting  back  that  lost  wonderland.  He  researched ,  experimented  and  finally  decided   upon  this  as  his  second  year  project. Building  prototypes,  experimenting  with  them ,  finalising  a  few  and  rejecting  many  was  the  beginning  course  of  DELTA H. But  from  then  on  there  was  no  looking  back. And  during  this  sleepless- nights- and- hard working  days  his  dad  helped  him  a  lot  ; a  pillar  of  support  he  has  been  throughout  since  his  very  first  step (pun  intended!) .
And  they  say  " Every  time  you  get  rejected  ,  you  are  always  directed  to  something  better."  After  much  toiling  and  coming  up  with  prototypes , presenting his startups again and again VENTURE STUDIO   happened ! He  passed through  the  interview , went  through  the  grooming  period  ,  met  a  number  of  people  who helped  him  along  ; all in  all  things  finally  started  falling  into  place  and  his  "train"  finally  gained  his  lost  balance .  With  Sarfaraz  followed  by  Sachin  DELTA H  started to  take  form  but  there were  a  number  of  mountains  to  be  climbed. And  on  his  way  to  the  top , there  were  a  number  of  times  when  the  cool  breeze  took  his   breath  away  at  par  with  the  moments  when  the  chilled  wind  almost  freezed  him  to  death.
" Once  we  went  on  a  one-day  picnic  to  polo  forest . So  me  and  Shreyansh ,a fellow at VS,
 we  planned  to test our  prototype over  there. We  took a  number  of  dishes
and  once  we  were  in the  middle  of  the  jungle we  heated  them using our
product. All the  samples  worked  except  one and  all of  us  had  meal  of  our  
life to  our  heart's  content. It  was  a  fulfilling  moment in  itself.", he  says  with  a
 twinkle  in  his eyes. And with an  infectious  smile  he  goes  on, " And  once
an  interesting incident occured. I and sachin were experimenting in workshop when the oven caught
fire. The  chemical  reacted  with  water  so  we  couldn't  extinguish  it with water.
Finally  we  got  some  sand  and  extinguished  it .", invisible sweat beads on his
forehead  due  to  air  conditioned air.
When  quipped  about  the  domain  jaunt  from  mechanical to chemical he says, " I look  at  it  as  an  advantage .  As  I  am  not  domain  oriented  I  don't  tend  to  presume  results. I am  like  ' I have  to get this end  product  be  it  any way!!' Also during  the  course  there  have  been times  when  I had  to  build  machines , check  the  equipments ; so  it  was  rather  an  advantage."
And  when asked  about  the  faults  and  flaws  he  says,"Changing  prototypes , trying  to  better  them  everytime  costed  me  a  LOT!"
Networking  with  such  a  horizon  of  people  –  from  suppliers  to  who's  who  of  government ,  since  the  onset  of  his  journey I ask  him  who  he  is  thankful to and  he  ponders ," My dad cause  he  has  been  through  all  the  thick  and  thin. And , of course, Venture Studio and Dr. Ajay Karekoti , for  his  everlasting  support  through  all the  experiments  and  everything."
When  questioned  as  to  what  he  would  like  to  advise  the  startup  enthusiasts   he  says, " Blindly  thinking " SABKA STARTUP SUCCESSFUL HO RAHA HAI TOH MERA BHI HONA HI CHAHIYE !!"  shouldn't  be  the  case. It  needs  perseverance  and  pursuit.  That  is  the  key!!"
And  talking  about  DELTA H he  says ," We  have  developed  a  product  INSTAHOT  , a packet , wherein you can  put  ready – to- eat  packs  along with the  indicated  amount  of  water,  and  leave  it  for 10 minutes. That's  it !  The  food  is  heated , you  just  have  to  pull out  the  dishes, set  the  table and ENJOY!"
Such  was  the  journey  of  KUSH  PATEL  and his  startup DELTA H .  A  great  relief  for  wanderers  and  hostelites  alike . With  DELTA H your way , hot  and  yummy  food  is  never gonna run  away !!!