Yes you read that right! Wakefit.co an Indian startup that produces mattresses, has an opening for internship where your job is to SLEEP! 9 hours a day for 100 days!!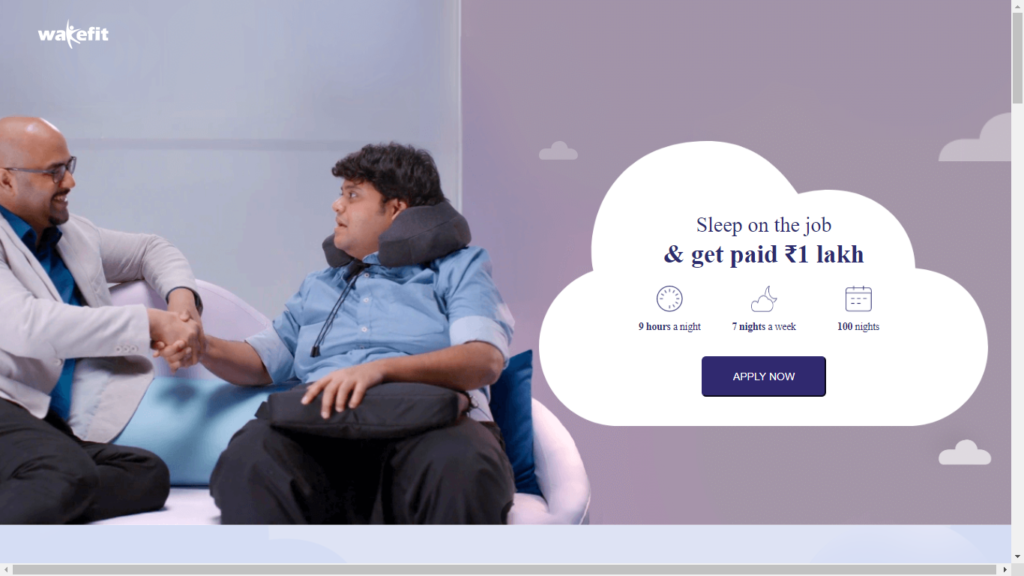 How do you land for this job? You will have to convince the startup that your are love about sleeping 😀

"We are looking to recruit the best sleepers in the country who are willing to go to any lengths to make sleep a priority in their lives. The Sleep Internship initiative aims to bring back the focus on sleep health by celebrating and applauding people who obsess about sleeping well,," said Chaitanya Ramalingegowda, director and co-founder, Wakefit.co.

Wakefit will monitor one's sleep pattern as the interns would be sleeping on the startup's mattress. It will also offer counselling sessions and give a sleep tracker, that will monitor their sleep before and after using the mattress.
Once the data is shared with the startup for having slept nine hours every day for 100 days, the company will offer a stipend of ₹1 lakh.
"This initiative is another step towards making sleep an integral part of maintaining work-life balance in our lives," said Ramalingegowda.
The startup is also campaigning for the 'Right to Work Naps'. It will also install siesta rooms at offices. It has partnered with Rentomojo and Cloudnine hospitals to collaborate for employee wellness.
A survey conducted by Wakefit said that 86% respondents strongly advocated a nap room. They believe that it will help increase productivity.
Apply for #SleepInternship here https://www.wakefit.co/sleepintern/