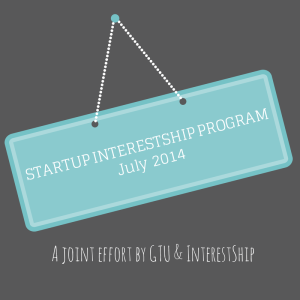 Startup InterestShip Program – July 2014, is a joint effort by GTU Innovation Council & InterestShip
Through this program we are providing internship opportunities to students to learn and gain practical knowledge in the field of their interests, by working with innovative startups in the Startup Ecosystem of Gujarat.
What you need to do as a student?
Register to the event by following the link: http://www.interestship.com/gtu
What next?
We will be shortlisting the candidates for the event and get back to you with the updates
What happens at the event?
The students invited at the event will have to go through the process at the end of which you will be selected for these opportunities.
More details about the event will be provided shortly. Keep following the facebook page for more updates.
For any queries, you can write to us at
deep@interestship.com
or call us at [+91]9624599914
Cheers.