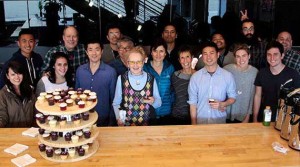 Barbara Beskind, 91, wanted to be an inventor when she was 8. Women weren't eligible for engineering degrees at the time, so Beskind enlisted in the Army, as an occupational therapist for 44 years.
Now, after eight decades, she has finally realized her dream at IDEO, a Silicon Valley design firm famous for creating the first mouse for Apple.
She's working as a tech designer, and focuses on projects related to aging. She has designed a "trekker", which is a modified version of a walker and is being developed into a prototype by IDEO. Some of her other inventions include wearable airbags intended to help break falls and eyeglasses equipped with cameras and speakers to help users remember peoples' names. Beskind herself suffers from macular degeneration, a vision condition, and many of her friends where she lives struggle with balance issues.
Beskind read about IDEO and decided to apply for a job after seeing the company's CEO, David Kelley, speak about staff diversity on 60 Minutes. 
"It took me about two months to write my resume, paring it down from nine pages," she said. "Then I wrote the letter and sent it in by snail mail."
Beskind works one day a week in IDEO's Palo Alto office, which she commutes to from her senior living community. She says, "On Thursday I feel 30 years younger."
"She's not afraid to roll up her sleeves," says Gretchen Addi, who works at IDEO. "She's just an incredible resource for us."
Beskind says, all these years later, she has finally found her true calling. "It makes aging more tolerable, more enjoyable."
"I enjoy I think this is one of the best chapters of my life."